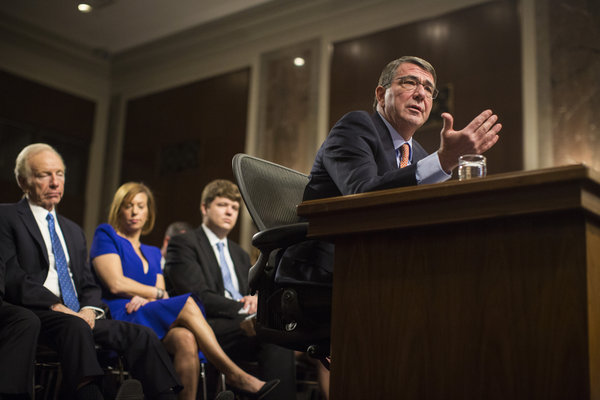 The U.S. Senate voted on Thursday to confirm Ashton Carter as President Barack Obama's next secretary of defense.
Carter will be Obama's fourth defense secretary, succeeding Chuck Hagel, who resigned under pressure last year.
Views:
farmer

 
Maybe, just maybe, A. Carter, can get sworn in and actually work with our Leadership in the Pentagon to get some Sound viability in the Nation's
Military and the planning and budgeting processes. Maybe Mr. Carter can work to tactfully tell Congress to stop trying to manage what they have absolutely no clue about. The Congress looks at the budget numbers and really HAS NO CLUE as to how it works or should work for the Military, for the VA, for Medicare, for Social Security, For the IRS, For the Justice Department, et al. Aid to Other than U.S. entities and "Feel Good" issues is what really needs to be scrutinized in the Annual Budget, along with the Refurbishing/Refurnishing(?) of Congressional Offices. Talk about waste, Our Congress is the biggest Perpetrator!
Eugene H
This guy has a long and successful history of managing defense projects and logistics; he has a understanding of the History of Europe and the Middle East, something that everyone else in this administration is sorely lacking.
Let us give him a chance to do the right thing: time will only tell if he believes in Nationalism, or Globalism.
Martin
So who in the State Department or Defense Department gave the order making the U.S. marines hand over their weapons to the Yemeni insurgents.